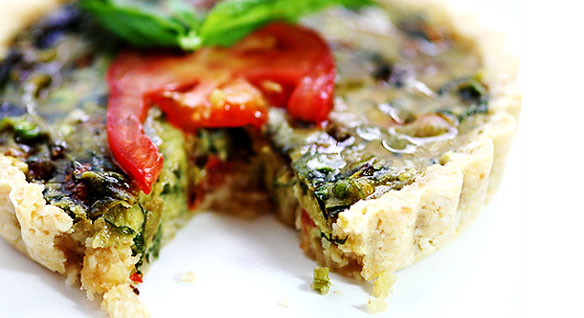 Spinach Mushroom Quiche
Ingredients:
1  9-inch pie shell, baked (gluten free or whole wheat)
1 teaspoon of extra virgin olive oil
1/4 cup diced sweet onions
1 cup sliced crimini mushrooms
1 10 ounce package frozen (thawed) or fresh spinach
8 ounce reduced-fat Swiss cheese or  Organic Goat Cheese
4 eggs beaten
3/4 cup Almond Milk Vanilla or So Delicious Coconut Milk Vanilla
1/2 teaspoon pepper
1/4 teaspoon ground nutmeg
1 cup of fresh diced tomatoes
1Tbs minced basil
In a medium skillet, saute' the onion in the olive oil.  Add the sliced mushrooms and toss to mix.  Squeeze and drain spinach thoroughly.  In a medium sized bowl, toss together the spinach, mushrooms, onions and 1 1/2 cups of cheese and pour out into the baked pie shell.  In a small bowl, whisk the eggs together with the almond milk or coconut milk vanilla, salt, pepper and nutmeg.  Pour egg mixutre over the veggie mixture in the pie crust and top with the remaining cheese.  Add 1 cup of fresh diced tomatoes & 1 Tbs minced basil on top. Bake at 425 degrees for 10 minutes.  Lower heat to 325 degrees and bake for another 20-25 minutes.  Remove from the oven and let stand 5 minutes before serving.  Serve & enjoy! Makes 8 servings.