Happy New Year 2013 Everyone!  🙂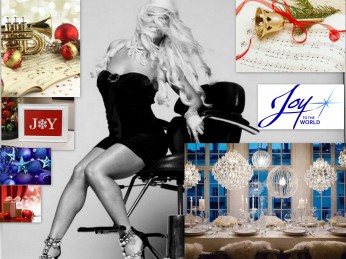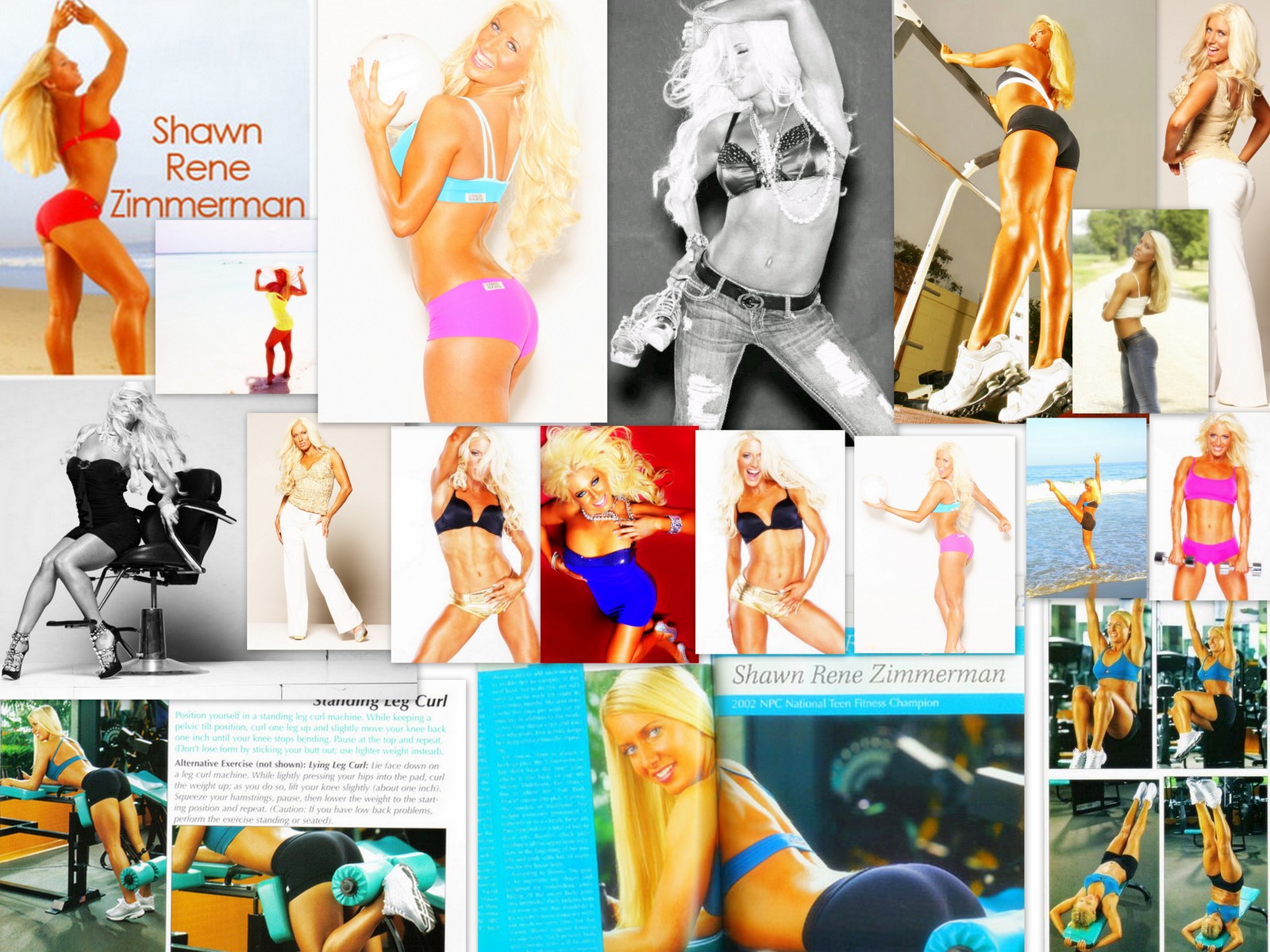 Happy 2013 Everyone!
The Best is yet to come!  Your BEST days are AHEAD of you! Gods vision & plans for our life is always greater & better then we could imagine!  God wants the very best for us & he wants us to be Healthy, Happy & Thriving, Giving & Living our Passion! Spreading LIFE to others!  Below I have Motivation & Encouragement for the New Year for you All!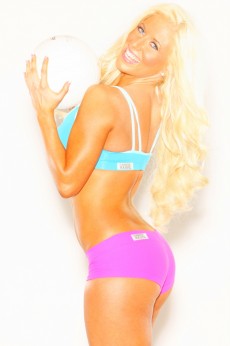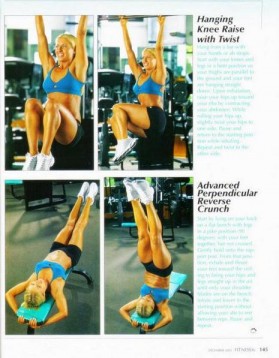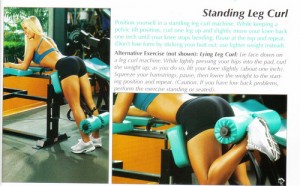 Fitness & My Workouts
I love having goals & love training hard!  Working out when done right, should make you feel Revitilized, Refreshed, Electrified & Renewed!

  I also very passionate in making others Happy, Healthy & Fitnessfied from the Inside Out!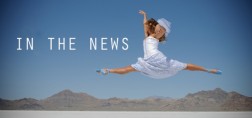 You all ask about my personal workouts & what I have coming up, here is what I am training for!  My personal workouts wise, I am training hard for more up coming fitness photo shoots & fitness projects that I am very excited about!  In 2013 you will be seeing me more Motivating, Educating You on TV World Wide!  A few weeks ago, in Fort Lauderdale, Florida, I just filmed a International TV Fitness infomercial about an exciting new exercise machine new for 2013!  It will air in Australia then USA this summer!  I was the TV Fitness Cover Model, Exercise Scientist, Exercise Science Specialist,  Sports Medicine Specialist, Nutrition Specialist, Celebrity Trainer in the Infomercial.  Educating You to LIVE in Health, Fitness, Strength & Joy inside Out!  The infomercial will air on HSN the Home Shopping Network World Wide.  It will first air in Australia & Europe early 2013 then airing in USA early Spring 2013!  I will be back in Fort Lauderdale, Florida this Spring & Summer shooting more International TV Fitness Infomercials, I am looking forward to educating & motivating others in living healthy & fit life, for life! 🙂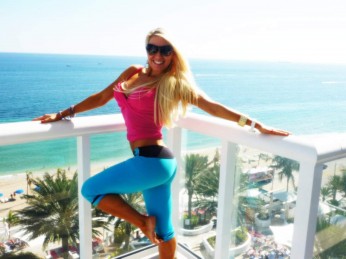 Above Photo in Florida filming International TV Fitness Infomercial airing Internationally Summer 2013!
In Janaury & February I was in the Carribean Island of Aruba at my family's & I's vacation home for 2 weeks of family time fun in the sun, with my Family! My dad, mom & brother Isaac. This is my favorite time of the year I love making life long memories with my family, love them so very much!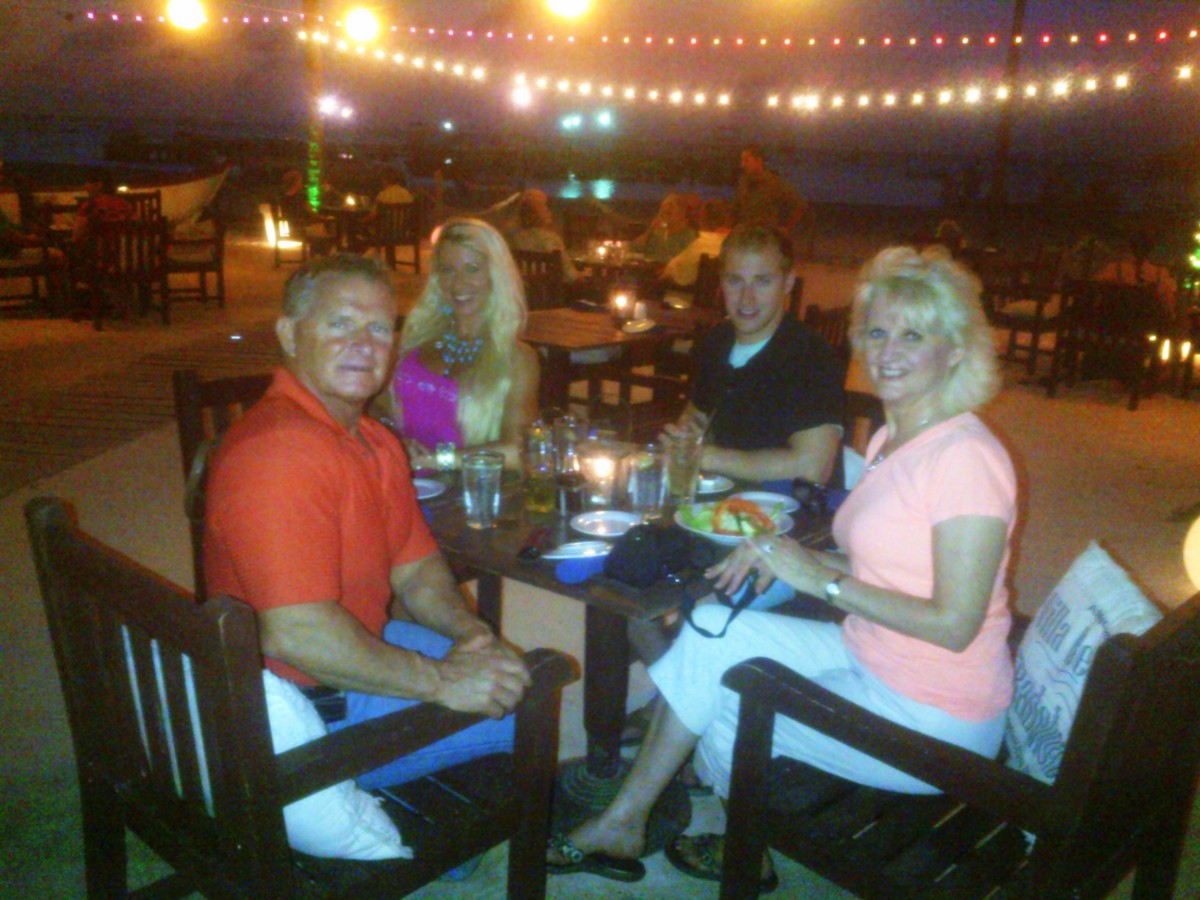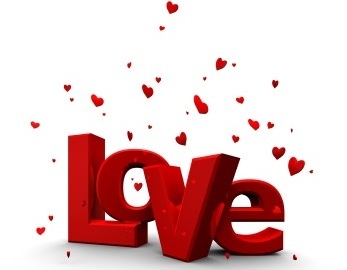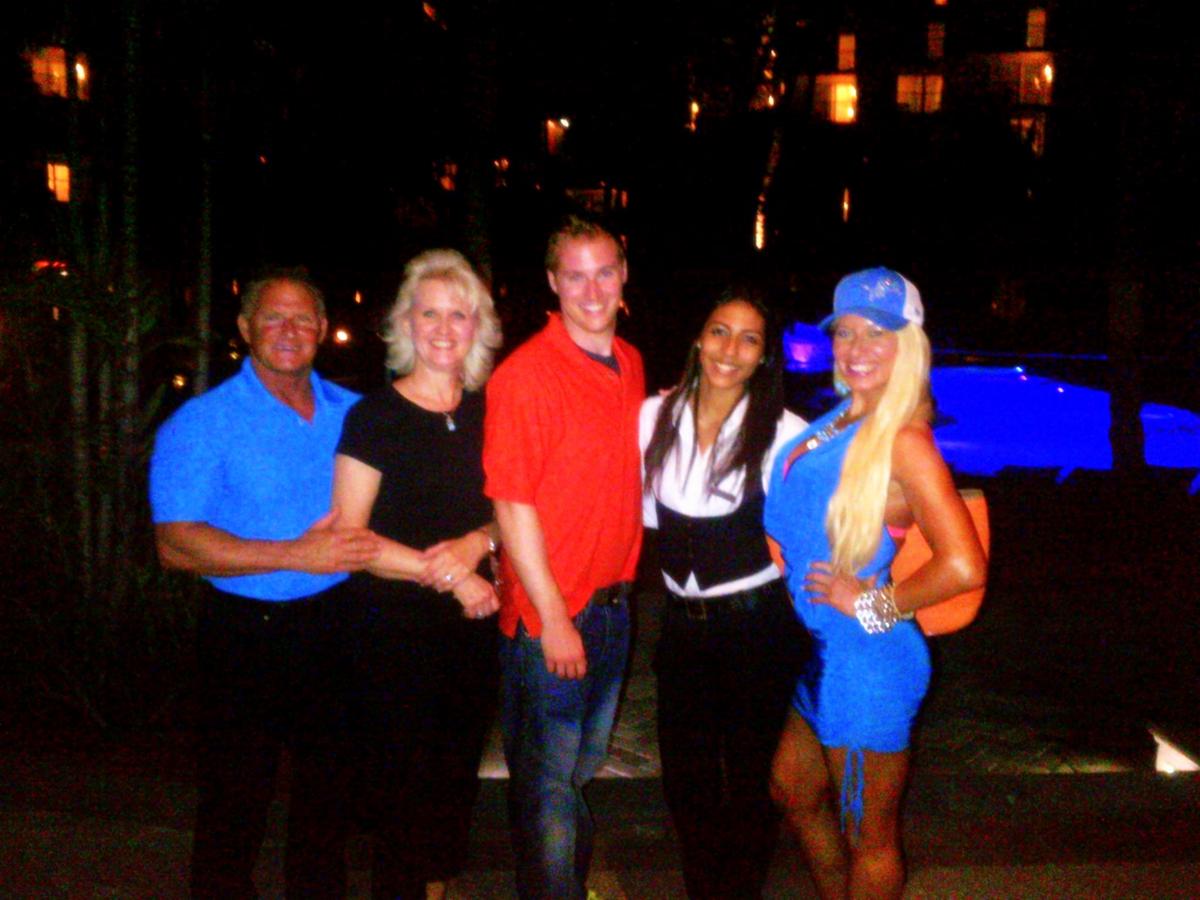 Above Photo FAMILY PHOTO! 🙂 My Dad, Mom, younger Brother Isaac & Aruba Fan & I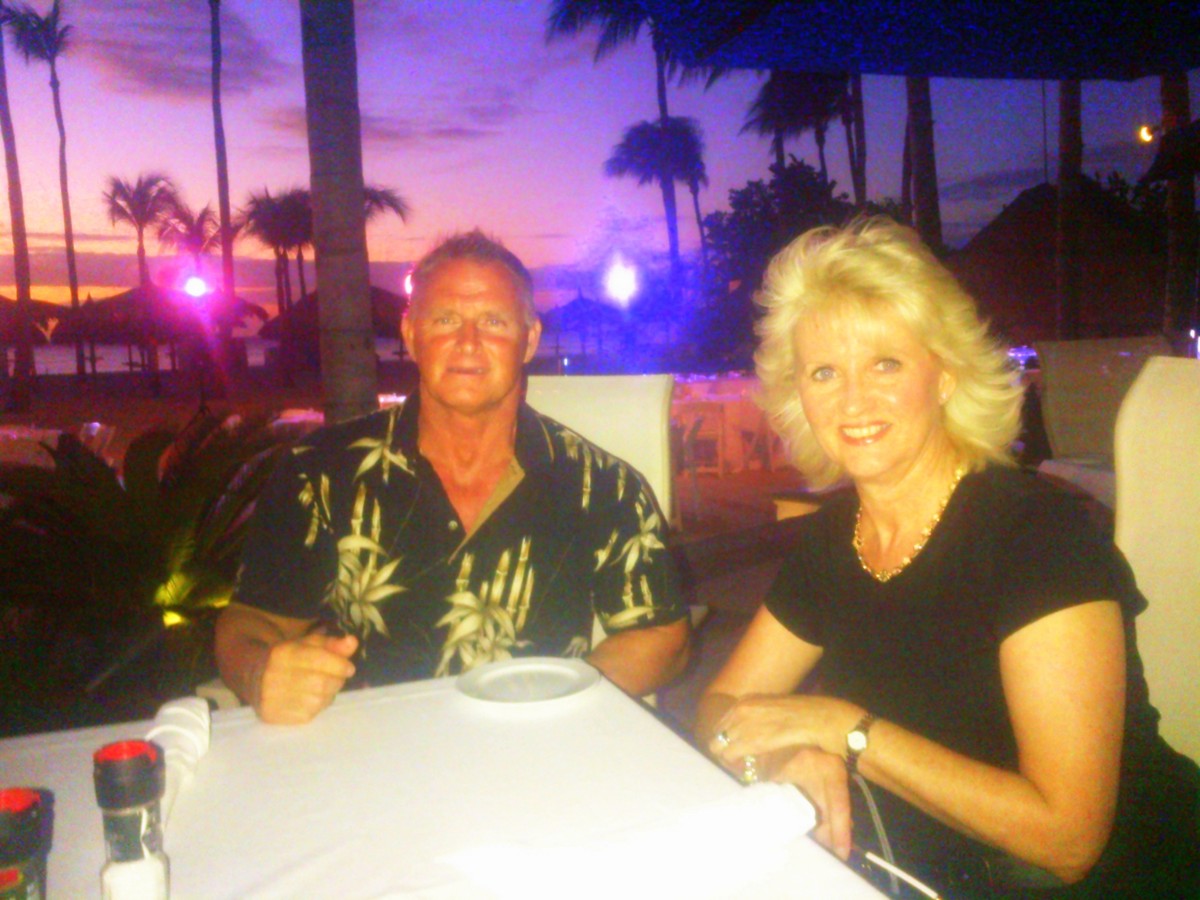 Family Dinner in Carribean Island of Aruba with my Dad & Mom LOVE THEM!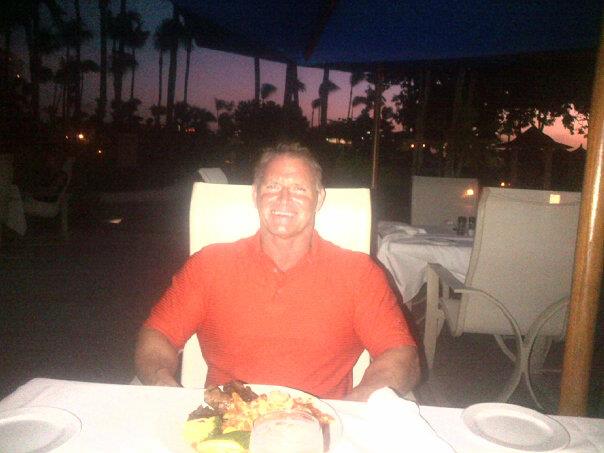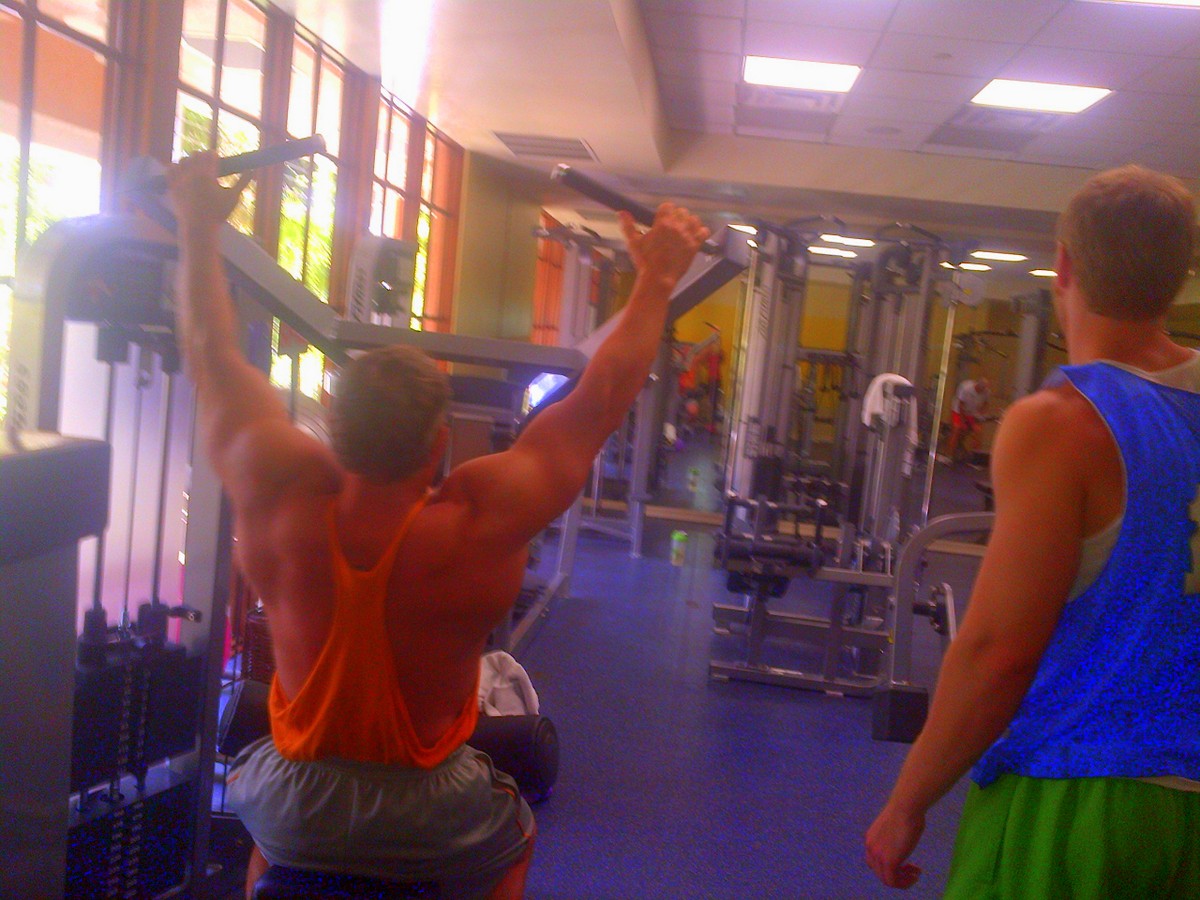 Captured candid photo from my phone My Dad & Brother working out! Big Back! 🙂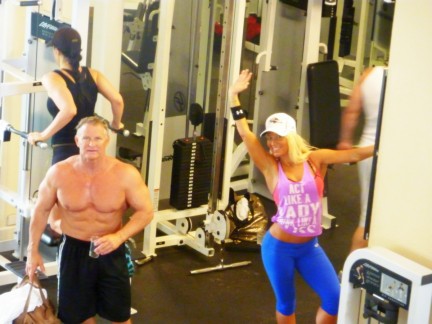 Candid Photo even on vacation I hit the gym every day, Fitness is my  lifestyle, Candid Photo of My Dad & I Working out in Aruba Gym, Family Fitness Fun! (Yes thats my DAD! 🙂 My Dad Naturally Gladiator Fit at age 58 is my role model! In the 1980's my dad Dan Zimmerman won All Naturally Mr NPC Delaware, Mr Tri-State, Mr Eastern Shore & Fitness TV Best Body on the Beach in Ocean City Maryland.) Health & Fitness is Lifestyle & I am so thankful that it is something my Family & I enjoy doing together.  I want to encourage you all to enjoy health & fitness with your family, family bonding time for lifetime of quality of life health & fitness!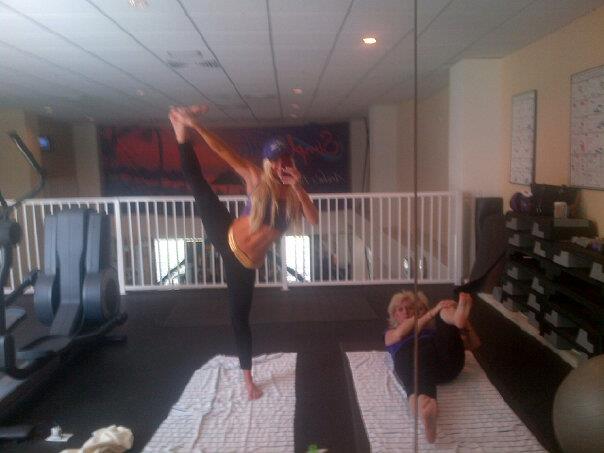 Super Candid Photo! 🙂 Action Shot! Working Out with my mom, on vacation! 🙂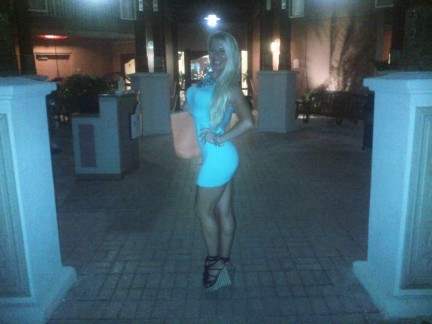 Candid Photo dining out in Aruba Family Dinner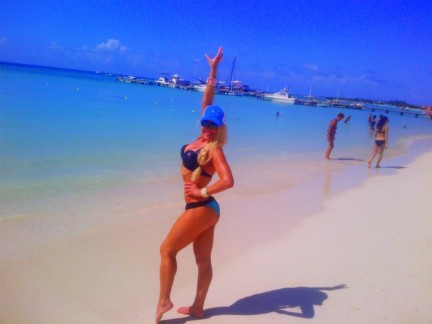 Candid Photo Beach Run in the Sun!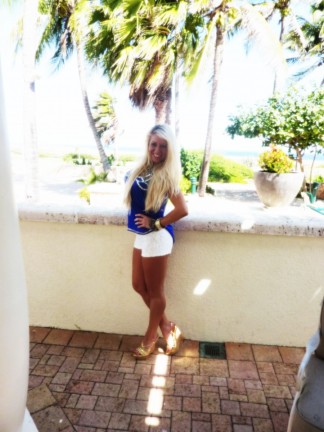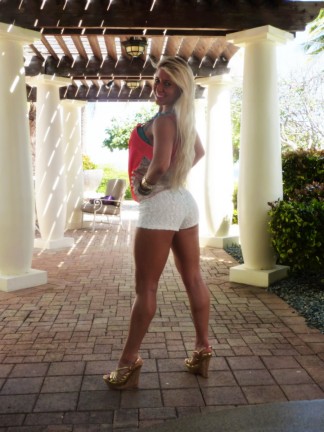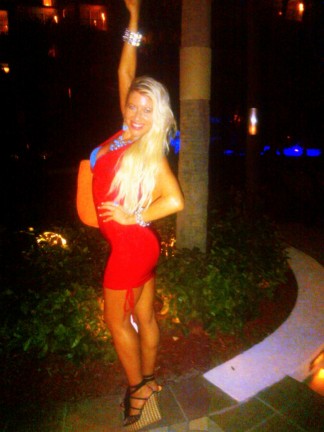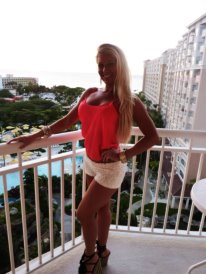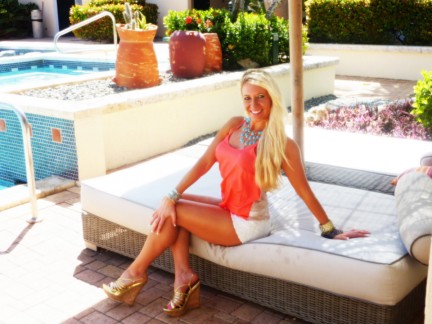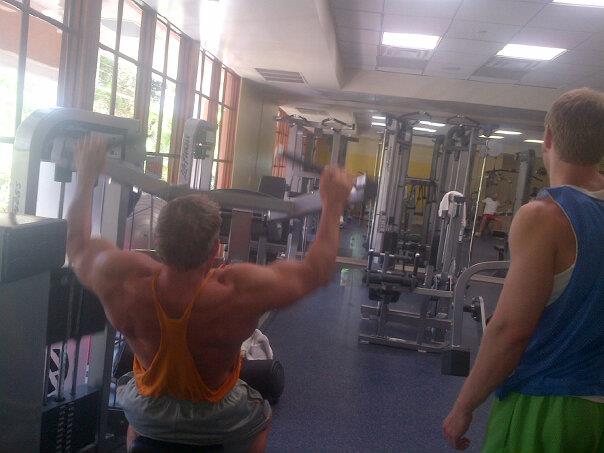 My Dad & Brother Isaac working out, My Dad is hitting big back!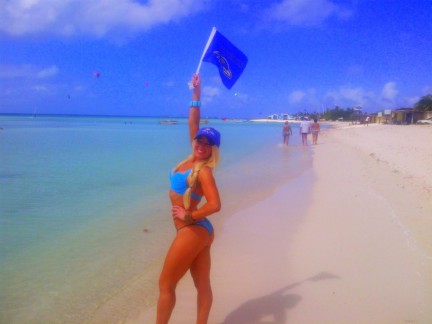 Love the Beach! Hitting Beach Workout! 🙂 (This was NFL Super Bowl day I brought my NFL Ravens flag to the beach! 🙂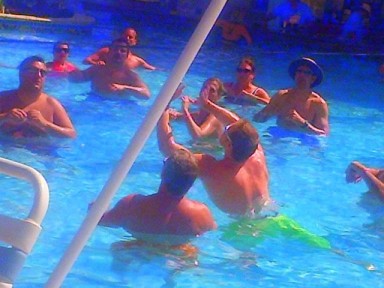 Cheering for my Dad & Brother diving for the Ball Playing Pool Volley ball in Carribean!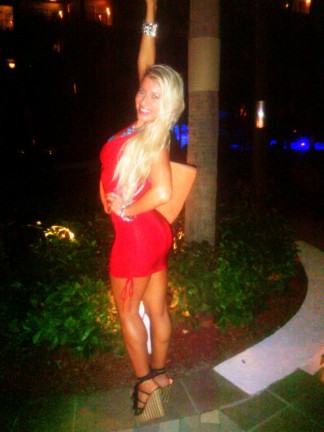 Family Dinner ..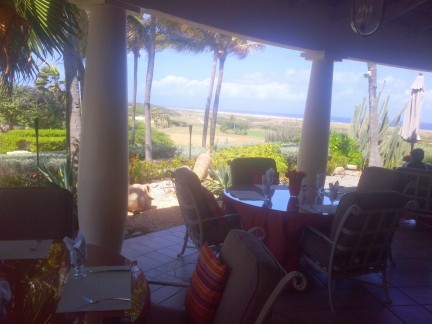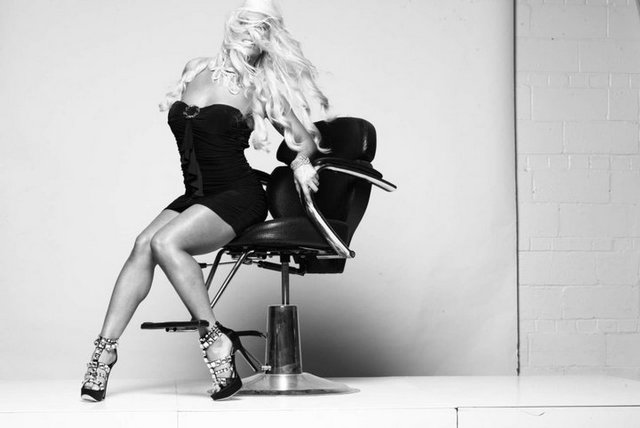 April 2013, Now I am back home from the Carribean & getting ready for some exciting photo shoot & TV Fitness projects coming up!  I love to always train hard & very excited about the projects ahead!
Along with me training myself prepping for my next photo shoots & fitness projects, I also private train personal train clients celebrities & professional athletes, as well as people of all fitness levels!  I also teach my fitness classes that I love teaching, Yoga, Pilates, The Skinny Jeans Workout (I created lots of legs, abs, glutes), Dance Fusion (I created combo of my favorite moves of Ballet, Modern Dance, Jazz Dance & Hip Hop).  In my Yoga class I train everyone from Top Atletes & Football Players, Golf Teams, Softball Teams, Baseball Players, College Students, Moms & Pregnant Women.  I love helping Athletes perform better in their sports.  It is a real joy for me to work with Athletes, as I am also an Athelete, love encouraging, motivating them to improve every day in every way! I love training & helping others of all fitness levels & ages.  Its my passion to help others & make others be & feel healthy & fit on the inside out!
My Passion is to Educate, Inspire, Motivate & Bring Out The Best In You Inside Out!  Igniting Health, Fitness, Strength & Joy in You!
To Motivate You for 2013
January 2013 Motivation & LIVE & Love Your Life!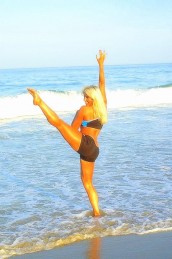 Each day is a new beginning!  Each and every day is a brand new journey and a bright future starts today!  Follow your heart all the way to fulfillment.  You are unique in all of God's creation.  There has never been another you, and there never will be.  You are filled with endless potential.  Do leaders see the class as half full, or half empty?   The answer is neither. They see the glass as twice the size!  Give wings to your heart & soul by nourishing your mind.  If you can see the invisible, you can do the impossible!  Remember that you are precious, and your life is a gift!  Don't waste energy or a moment on negativity or negative thinking.  Celebrate the sheer joy of being alive.  "Each man's life is but a breath," as the Bible says.  Take a deep breath and experience the present moment.  Savor the beauty and wonder of the world around you.  Stay true to your heart for out of it flows the springs of your life.  Stay true to the values you cherish.  Start each day by choosing gratefulness and joy.  Believe in the dreams and desires God has placed in your heart.  Live fully and joyously.  Dream about tomorrow, treasure yesterday & live for today!
God's vision for our life is always bigger & better then we can even imagine.  God always knows what is best for us.  Follow your heart & follow your joy!  God gives us our Passions for divine purpose, LIVE & enjoy your Passions!  Ignite others Passions in them & spread LIFE & Joy into Others Lives!
It is my passion to Ignite Life, Health & Fitness into your life!  What are you going to do in this New Year to improve your Health & Fitness?  Write down a list of your goals & get after it! 🙂 Goals begin with a Vision.  Have the Vision of being Healthy & take the time to accomplish those goals.  You will have more focus, energy for day to day activites & more energy for your family & friends!  Your mood will also be increased, as working out increases the feel good hormones, endorphins, which are increased when you work out!
Surround your self around those who encourage & bring out the best in you!  True friends will want the best for you & will bring out the best in you!
Here is a quote that I love , "If you always put limits on everything you do, physical or anything else, it will spread into your work and into your life. There are no limits. There are only plateaus; and you must not stay there, you must go beyond them."  -Bruce Lee
"You've got to keep yourself in "Prime Physical Condition", because fatigue makes
cowards of us all." ~ Vince Lombardi
"Strong Positive Mind Set Sets the Tempo For Your Life! Positivity Builds Up
& Enhances Life! Negative Subtracts! Be Life Enhancing!" – Shawn Rene
"Give, Spread, Speak Life into Others! Fill Your Life with as
much Joy & Passion as Possible!" – Shawn Rene
I get a lot of emails about training with me world wide. I work with & train people world wide, due to request, I have available World Wide Online Personal Training & Nutrition with Me One on One!  I really love to help others & love to see the whole life positive transformation.  You can have me as Your Celebrity Personal Trainer, Exercise Scientist, Exercise Science Specialist, Sports Medicine Specialist, Nutrition Specialist.  Take a look at my online Store & I have several Health, Fitness, Personal Training & Nutrition Programs available, where you work directly one on one with me!
I encourage you to spend as much time as you can with family & friends & enjoy & cherish every moment!  Make as many wonderful life long memories as possible!  Be thankful for each other & be a blessing to others!
Cheers to Joyous New Year 2013!
I Love to hear from you all!
Sending You All Blessings of  Joy, Peace, Strength, Love & Health!
 Dont let anyone come to you with out making them feel Better, Healthier & Happier!" ~ Shawn Rene
Shawn Rene Zimmerman Fitness Cover Model, Voted The Top 100 FIT Models in The World, TV Fitness Model, TV Fitness Expert, Celebrity Health Fitness Expert, Exercise Scientist, Exercise Science Specialist, Sports Medicine Specialist, Yoga Specialist, Nutrition Specialist, Celebrity Trainer, National & World Fitness Champion, Motivational & Life Coach!
"Life is a Dream Boat.  Sail it.  LIVE Every Day to the Fullest!  Spread Life, Health & Joy to All Around You!" ~ Shawn Rene
"Life is Happiness!  LIVE with Passion, Zest & Giving & Spreading LIFE & Joy from Your Heart!" ~ Shawn Rene
"Love & Kindness is Health & Strength to Your Heart & The Hearts of
All Those Around You!" – Shawn Rene
The Fruit of the Holy Spirit is Love, Joy, Peace, Patience, Kindness, Goodness, Faithfulness, Gentleness -Galations 5:22
He Who Walks with Integrity Walks Securely. – Provebs 10:9
My Mouth is Filled with Your Praise, Declaring your Splendor all day long" ~ Psalms 71:8
Whatever We Think About & Thank About We Bring About! So Think Positively! ~♥ShawnRene♥