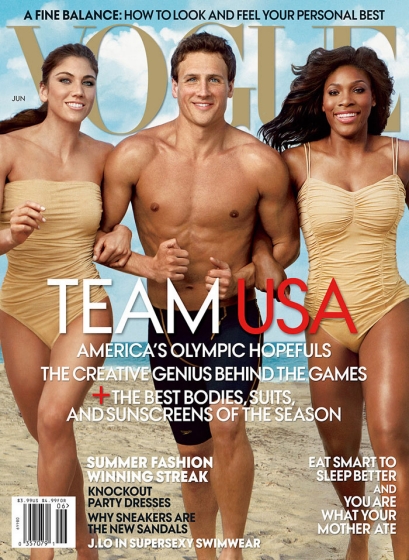 Exciting news Vogue Magazine June 2012 issue is the  impact has to do with Vogues new pact to fight eating disorders.  This  involves using healthy models at all times. The June 2012 issue will also featur a spread dedicated to the new initiative!
The editors of all nineteen international editions of Vogue have forged a pact, called the Health Initiative, to use healthy models in their magazines. Their most concrete efforts are focused on banning the use of models who suffer from eating disorders or are younger than 16 years of age, but the pledge also encourages model mentorship programs. A model's health can be a sticky subject full of gray areas, so the agreement is broken down into six bullet points. Here they are, courtesy of a press release from Condé Nast International:
We will work with models who, in our view, are healthy and help to promote a healthy body image.
We will help to structure mentoring programmes where more mature models are able to give advice and guidance to younger girls, and we will help to raise industry-wide awareness through education, as has been integral to the Council of Fashion Designers of America Health Initiative.
We will encourage producers to create healthy backstage working conditions, including healthy food options and a respect for privacy.
We encourage designers to consider the consequences of unrealistically small sample sizes of their clothing, which limits the range of women who can be photographed in their clothes, and encourages the use of extremely thin models.
We will be ambassadors for the message of healthy body image.
Being a Health & Fitness advocate, I am very excited that starting in this June 2012 all of the Vogue Magazine international editions will kick off this effort with special editorials dedicated to the healthy body image initiative! I am very happy that VOGUE is going in the right direction promoting Healthy & Fitness body image that will have a positive Healthy impact on others!
I am passionate in promoting Health, Fitness into others lives.  I love Health, Fitness, Sports & Fashion, below are photos from my most recent Fashion Photo shoot.
In Promoting Quality of Life, Healthy & Fitness Body Image in Fashion
~Shawn Rene